WSIU TV documentary sheds light on the Korean War with never-before-seen war footage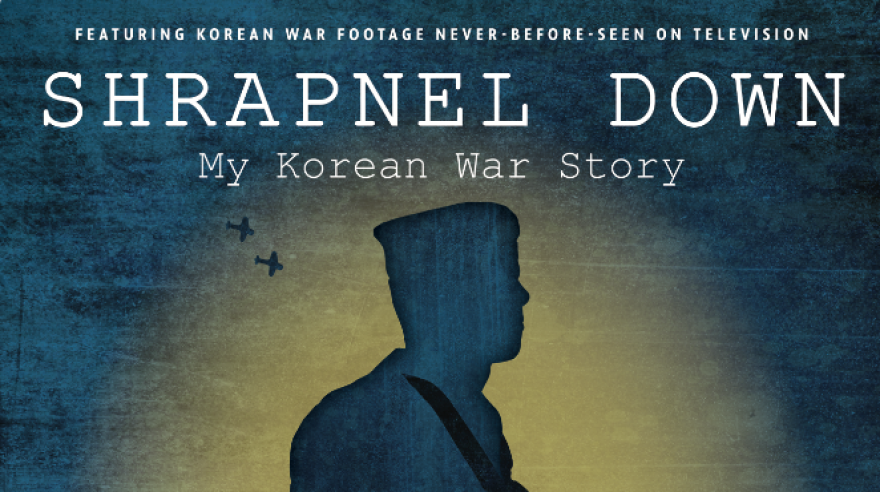 CARBONDALE, ILL - The Korean War documentary film, Shrapnel Down: My Korean War Story, will broadcast on the WSIU stations Sun, May 29 at 2pm and on Memorial Day, Mon, May 30 at 9pm. The film features never-before-seen war footage captured by Iowa native and veteran Bill Rector during his tour of duty during the Korean War. The 27-minute film, produced and directed by Mark St. George for WSIU Public Broadcasting is distributed by American Public Television (APT).
"Shrapnel Down highlights public media's role as a local storyteller," says WSIU Public Broadcasting Executive Director Dr. Fred Martino.
"We strive to document local experiences to provide greater context and a rich understanding of the history we think we know. We're honored to document Bill Rector's harrowing story and proud to share it with viewers nationwide."

WSIU Executive Director, Dr. Fred Martino
"There are so many impactful stories WSIU proudly shares, and those of our brave U.S. veterans certainly deserve special attention," says film producer/director Mark St. George. "In Shrapnel Down, I hope viewers will discover a personal story that lurks behind the great veil of war; of the humanity that was ever-present beyond the shots fired. Shrapnel Down is a documentary about war - true - but told through the camera lens of one extraordinary sailor who shares his story, documenting his experiences of war, friendship, and loss," he adds.
The film Shrapnel Down follows the 1952 journey of Gunner's Mate Bill Rector who served on the USS Los Angeles Heavy Battle Cruiser 135 during the height of the Korean War. Using an 8mm camera, Rector documented his war experiences, capturing this never-before-seen footage. The film includes an in-depth interview with Rector where he recounts key moments such as the battles during the Blockade of Wonsan, the longest battle in modern naval history, and the Court of Neptune ritual. Shrapnel Down - My Korean War Story highlights this never-before-seen war footage and offers a revealing glimpse into the story of one American war veteran, as seen through the lens of his camera.
"The film is a time capsule that we are opening with viewers for the very first time," says St. George. "The documentary features original, 8mm war footage that has, until now, been locked away. Shrapnel Down breaks the seal on this time capsule and we're happy to share it with viewers," he adds.
"The documentary features original, 8mm war footage that has, until now, been locked away. Shrapnel Down breaks the seal on this time capsule and we're happy to share it with viewers."

Film producer/Director Mark St. George
The film was made with support from the Sullivan Brothers Iowa Veterans Museum and the Grout Museum of History and Science in Waterloo, IA and is sponsored nationwide by Carbondale Tourism and NOTS Logistics. The film is sponsored locally by SIU University Communications, SIU Veterans Services and SIU Extended Campus Vets. Composer Joseph R. Maddock provided the original, feature-length score which is available to stream for free at Soundcloud. The film is a follow-up documentary to the APT distributed A Bad Deal - My Vietnam War Story, also directed by St. George. Learn more about A Bad Deal online at wsiu.org/a-bad-deal or stream the documentary online at pbs.org or via the PBS Video App.
"Each community we serve is full of unique people with unique experiences," says Martino. "Sharing this history through a film like Shrapnel Down not only contributes to the larger story of the Korean War, but also speaks to how conflicts impact us at the local level," he adds.
A Bad Deal - My Vietnam War Story and Shrapnel Down - My Korean War Story are examples of what public media does best – local storytelling. Not only do the films serve as a vehicle for US war veterans to share their stories, but they also provide an opportunity for historical preservation.
"In producing this documentary, WSIU digitally and historically preserved irreplaceable, national treasures. After gaining access to all six reels of Bill Rector's 8mm Korean War footage, WSIU began a process of careful digitization," says St. George. "By this time, the 70-year-old 8mm war footage had already begun deteriorating. The film was converted into full-quality, digital videos that were created by the very same frame-by-frame process used by the Academy of Motion Pictures. UV LED backlight was used to keep the film cool and safe during the entire digitization process. WSIU now serves as a curator for nearly 2 hours of this historic Korean War footage," he adds.
Shrapnel Down - My Korean War Story is available to stream online at pbs.org , via the PBS Video App, and on WSIU's YouTube Channel. Promotional photos and captions for the film can be accessed here.
About WSIU Public Broadcasting
WSIU Public Broadcasting is licensed to the Board of Trustees of Southern Illinois University and is an integral part of the Office of the Chancellor at Southern Illinois University and the College of Arts & Media on the SIU Carbondale campus. The WSIU stations reach more than five million people across six states and beyond through six digital public television channels, three public radio stations, a radio information service, a website, and an education and community outreach department. WSIU's mission is to improve the quality of life of the people they serve. The WSIU stations partner with other community organizations to promote positive change and to support the academic and public service missions of Southern Illinois University Carbondale. Learn more and get the latest station news online at wsiu.org and on WSIU's Facebook and Twitter pages.
WSIU's programs and services are partially funded by a grant from the Illinois Arts Council, a state agency.
About American Public Television (APT)
American Public Television (APT) is the leading syndicator of high-quality, top-rated programming to the nation's public television stations. APT distributes one-fourth of the top 100 highest-rated public television titles in the U.S. Founded in 1961, among its 250 new program titles per year, APT programs include prominent documentaries, performance, news and current affairs programs, dramas, how-to programs, children's series and classic movies. America's Test Kitchen From Cook's Illustrated, Cook's Country, AfroPoP, Rick Steves' Europe, Chris Kimball's Milk Street Television, Front and Center, Doc Martin, Nightly Business Report, Midsomer Murders, A Place to Call Home, Lidia's Kitchen, Globe Trekker, New Orleans Cooking with Kevin Belton, Simply Ming, and P. Allen Smith's Garden Home are a sampling of APT's programs, considered some of the most popular on public television. APT licenses programs internationally through its APT Worldwide service. Now in its 13th year, Create®TV — featuring the best of public television's lifestyle programming — is distributed by American Public Television. APT also distributes WORLD™, public television's premier news, science and documentary channel. To find out more about APT's programs and services, visit APTonline.org.
###