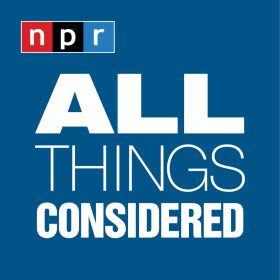 HD 1: Weekday from 3PM-6PM
Each show consists of the biggest stories of the day, thoughtful commentaries, insightful features on the quirky and the mainstream in arts and life, music and entertainment, all brought alive through sound.
Every weekday the two-hour show is hosted by Ailsa Chang, Mary Louise Kelly and Ari Shapiro. In 1977, ATC expanded to seven days a week with a one-hour show on Saturdays and Sundays, which is hosted by Michel Martin.
A bitter legal fight over the childhood home of Singapore's founding father, Lee Kuan Yew, has come to define Singapore's ruling family.

President Biden has approved a federal emergency declaration for Mississippi, after a tornado hit four counties killing at least 25 people, injuring dozens of others and destroying countless homes.

NPR's Scott Detrow speaks with Marta Wosińska, a visiting fellow at the Brookings Institution, about the rise in prescription drug shortages and what can be done to fix it.

NPR's Scott Detrow speaks with Amanda Shanor, a First Amendment scholar, about the case United States v. Hansen, which will be argued before the Supreme Court on Monday.

Scott Detrow speaks with Miami Herald reporter Jacqueline Charles about the gang violence and hunger crisis in Haiti.

The difference between song and record of the year at the Grammys can be confusing. So confusing, that we messed it up on a story on npr.org, and had to issue a correction.

Republican Florida Gov. Ron DeSantis is eyeing a run for president. He's made a national name for himself by taking on culture war topics. So how do Florida voters feel about all this?

Thinking about quitting your job or maybe starting a business? NPR's Life Kit has tips on getting your finances in order before making a big leap.

An explosion Friday night in a chocolate factory in West Reading, Pa., has killed at least two people and left several more missing.

NPR's Scott Detrow speaks with Mark Pocan, Democratic congressman of Wisconsin, about this week's hearing that featured TikTok CEO Shou Zi Chew, and how he thinks lawmakers should regulate the app.